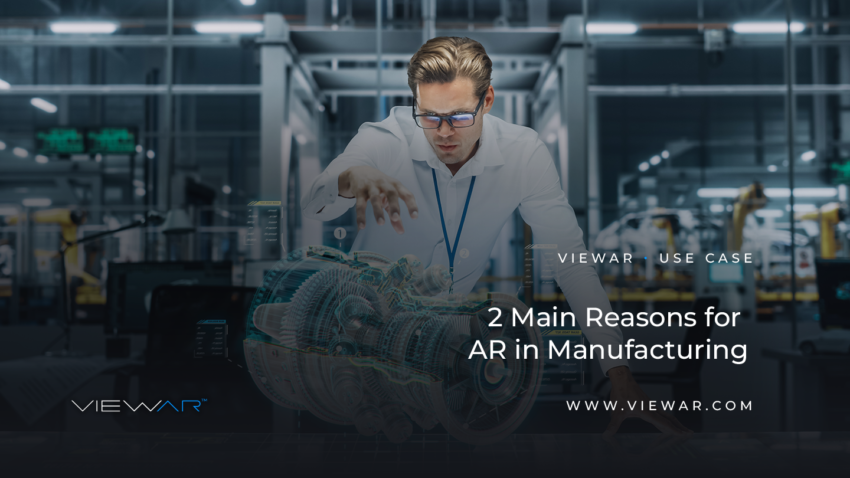 05.11.2022
2 Main Reasons for Augmented Reality in Manufacturing
Introduction
Augmented reality is already being used in manufacturing [source] and assembling on a large scale. This naturally suggests that if you are a manufacturing company, you should be either using or at least considering such a technology in your own business as well. If previous technology assessments have led you to take a wait-and-see approach, this blog post might encourage you to incorporate this technology. Whether you are already a veteran in the industry or a novice trying to get a grip of this augmented reality, you might find valuable information inside this blog post below.
Two main reasons
The two main rational reasons for why any business changes current systems or adds new systems are time and money. Every solution that provides a benefit that pays for itself by affecting one of those two metrics is a no brainer. If a technology can provide both – increasing effectiveness by saving money and reducing time spent, – it should be considered a good investment. But what about augmented reality? Is that something that pays for itself? Let's take a look at augmented reality in manufacturing and how the industry is already benefiting from it.
How AR Software can help
We are not talking about a simple software solution here. The difference between just getting a new software and implementing it to reap the maximum benefits means changing the overall structure while integrating the whole team. It means establishing a new digital framework within the company, not just adding a technology to the stack on a whim..
The impact of using a new digital framework cannot be neglected. A new software environment can ultimately increase productivity, lower operational costs, and improve efficiency. Employing augmented reality in your manufacturing company might even mean investing in one of the most lucrative technologies currently on the market today. It is an upcoming technological development that will have various benefits in the long run [data].
Many operations suffer from the inefficient deployment of workers, long idle times, delays in work order processing, frequent breakdowns, and lack of critical planning. Using new or improved software helps you better manage processes, machines, and people."

Canadian Metalworking
The augmented reality feature to consider for manufacturing
Whether you are running a small assembly firm or a bigger manufacturing company, you are probably feeling the increasing difficulty due to challenges that are growing throughout the whole industry. One of those challenges is the ongoing shortage of skilled workers [data].
Due to the increasing complexity, experts spend many hours teaching non-experts how to do the work. But with augmented reality, non-experts can teach themselves. All you need to do is capture your technical experts' knowledge to improve training and effectiveness of SOPs. Workers can then concentrate on following standardized digital workflows, which will result in more confidence, greater knowledge retention, and less training time.
Augmented reality is not replacing well trained workers but instead increasing their efficiency without friction. This will add more trust and increase the amount of workload you can delegate. It is essential for asset-oriented organizations to have efficient processes and optimized workflows to stay ahead of the curve. By enhancing workflows with augmented reality, processes are completed quicker, involve less effort, and result in fewer costly errors. Increased worker productivity, improved safety, and greater overall efficiency are just a few of the potential benefits.
Conclusion
You can transform your workforce with augmented reality workflows as they provide an efficient and consistent way to perform procedures in manufacturing. They can be used to onboard new workers or train employees on the spot. In fact, implementing augmented reality has been proven to have a drastic impact on several metrics of efficiency within a company. Read more about that in our white paper.