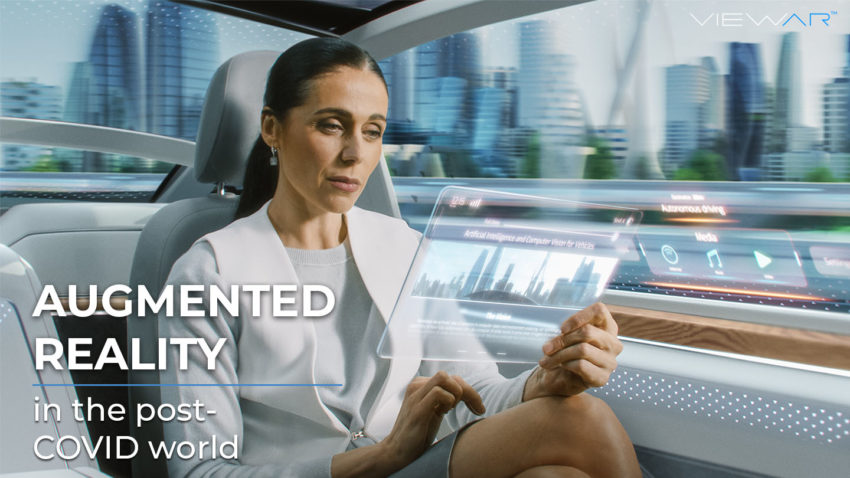 07.12.2021
Augmented reality post COVID – four key aspects
Until last year, interest in using augmented reality for business was cautious at best. Only a few companies already implemented the technology. Some researched applications of AR in their businesses. Others were weighing the development cost against potential efficiency gains. Over the past year, the situation has changed. From operas and museum visits, to business meetings and industry conferences. Moreover, social distancing, travel restrictions and lockdowns have marked an incisive turning point in how we interact with each other. Here are four key aspects of how augmented reality will influence our business interactions in the post-COVID world.
Increasing Interest in VR and AR under COVID-19.
The recent pandemic has prompted a rapid adoption of digital work flows and augmented reality technology. Now, customers are more confident to actively use AR in their everyday lives. Certainly, they see it as a tool that helps distributed teams do their jobs remotely and accelerate overdue digitization of business processes.
Remote Collaboration
When your employees can't travel to work on a project in person, you will have to find other ways to keep it running. During lockdowns all over the world, we've gotten used to actively working with virtual collaboration platforms in the home office, attending meetings via Zoom or Teams and visiting virtual conferences. But, what if you took it to another level?
These technologies are condensing and connecting the world
Let's say you're at an industrial plant and you're trying to fix a machine or some switches don't work. Or maybe some equipment broke down. Simply show the information you need to solve this problem with an AR enabled device. Furthermore, should you kind of run out of ideas, you can connect with an expert remotely. By this, he will see what you're seeing through your camera. Augmented reality mobile solutions help maintain complex industrial equipment without needing external experts to be on-site. In short, all the user needs to do is simply point a smartphone, tablet or smart glasses at the equipment and follow the instructions on the screen.
Members of a scattered team can now see what colleagues see in real time. When using a head-mounted display, augmented reality instructions give you a hands-free solution to get the support right when and where you need it. Accelerated by the pandemic, many companies already started to use augmented reality instructions to increase efficiency in remote collaboration.
Education, Onboarding & Training
In the current COVID-19 scenario, AR is perceived as an extremely useful solution. It provides scalable remote training, animated step-by-step instructions and digital information. For example, experienced workers can gain new complex skills or share their knowledge without leaving home. Similarly, you can use AR models to train and support new employees in technical procedures as diverse as the assembly of an airplane motor to simple switch replacement.
VR and AR Opening up the World
Companies across different industries are beginning to see the benefits of both AR and VR in training, education, and onboarding. That is to say, the secure environment and immersive elements of AR work extremely well in training and education. When dealing with 3D models in training, workers are more confident in trying things for the first time. This is because there is no threat of possibly destroying the whole machine or causing production downtime. With this, you can reduce errors and increase awareness for the task. Therefore, with the ongoing crisis, the appeal of VR and AR as a serious education tool and supporting knowledge resource become more and more evident.
Retail
Because of Covid-19, shops, malls and showrooms were closed all over the globe. As a result, ECommerce often was the only option for shopping. However, people could not try on clothes, feel their fabric or smell the perfume online as they did in the old-school real-life shopping. Therefore, AR and VR technologies have become popular in the retail industry, especially during the last months.
VR/AR are creating powerful experiences for all of us
Consumer brand apps use augmented reality to help you see exactly what furniture would look like in your home or how your walls will look with a different painting. You can virtually try-on shoes, change your make-up or customize the color of a 3D chair in real-time. All you need is a smartphone! Augmented reality is a great opportunity for brands to deliver a virtual customer experience and to increase sales while reducing product returns.
Remote experiences
Even a global pandemic can't quite stamp out the natural human instinct to seek and discover. You can simply login to the World Wide Web and visit places like the Metropolitan Museum of Art in New York City or Louvre in Paris. They all offer virtual tours of their collections. All without leaving your apartment.
Augmented and virtual reality help cultural institutions to create immersive and three dimensional experiences transporting people to far-flung and remote places. They are built to connect people to nature as well as to unique and extraordinary places of the world, to reach out and touch or be close to historical and artistic objects.
AR technology enables museum operators to create content in a quick and intuitive way. They would have to simply walk around a museum or gallery with their smartphone and scan the labels of exhibition objects. Automatically show information for the scanned label in the virtual version of the venue and let visitors discover it online.
Immersive technologies are just about to change our lives.
Now, more than ever, museums and galleries are testing the boundaries of art with the use of AR. For both publishers and audiences, augmented and virtual reality are providing remarkable benefits in culture and art, many of which are incredibly well suited to this moment.
Other factors
While Corona has also increased the demand, use and acceptance of augmented reality post COVID, the underlying technology and vision has been spreading and developing for quite some time. But there are other factors why VR and AR are facing increasing interest in B2C as well as B2B.
One factor is a big leap in the development of complementary hardware. It's as if iPhone and Android smartphones were just made for AR experiences, since they provide all the ingredients needed to use this technology. Powerful frameworks, such as ARKit and ARCore, are supporting AR-creators, and computer processing power has increased at an unmatched rate. What is more, AR enabled devices are becoming more affordable and popular for consumers. This of course increases the demand for such technologies.
In addition, internet connectivity and networking infrastructure have accelerated during the past decade in a way we could never have imagined. This enables companies to implement more complex projects. Furthermore, a more general growth of technical knowledge and experience also positively affects the adoption of AR and VR applications. As a result, technologies that were geeky experimental toys only a few years ago now conveniently blend into our everyday-lives in a private and professional way.
VR/AR can thrive long after COVID-19
After this pandemic is over certain things probably will never be the same again. The crisis is changing how we interact with and experience the world. And it definitely drives the adoption and utilization of AR and VR in numerous industries.
In a moment defined by isolation and distancing, AR/VR technologies give us an energizing connection to one another. From connecting co-workers from all over the world to providing augmented reality instructions to train your employees. From immersive customer experiences in shopping to bringing the museum to your living room. As these examples show, in ways both big and small, AR/VR can enhance our experiences, productivity and interactivity. Augmented reality has become a mature and useful tool for business, entertainment and education.
The effect of augmented reality after COVID-19
However, while the current VR/AR conversation has been triggered by a virus outbreak, innovators within the field have long praised the value of these technologies. Now, AR is seen as a powerful way to connect people and organizations across industries as diverse as retail, manufacturing, and culture. Augmented reality technology is here to stay. There is no turning back at it. We have to make sure to advance it, and use it to advance us.
For ten years now, VIEWAR has been building an augmented reality platform for developers and creators. It allows them to launch their own interactive AR experiences. Users don't need to have advanced technical skills and can design, configure and publish their own AR applications. Today, VIEWAR offers augmented reality templates for use cases like indoor navigation, remote assistance, preventive maintenance or product visualization. The VIEWAR system provides a complete infrastructure to create, manage, test and publish augmented reality applications. 
You might also like this article: Be our guest: Exploring the future of retail in the post-Covid world
Click here if you want to start building your own augmented reality app.
Or contact us if you need help defining your augmented reality use case. 
Source: https://www.forbes.com/sites/forbestechcouncil/2021/09/14/augmented-and-virtual-reality-after-covid-19/?sh=1ce9eb672d97