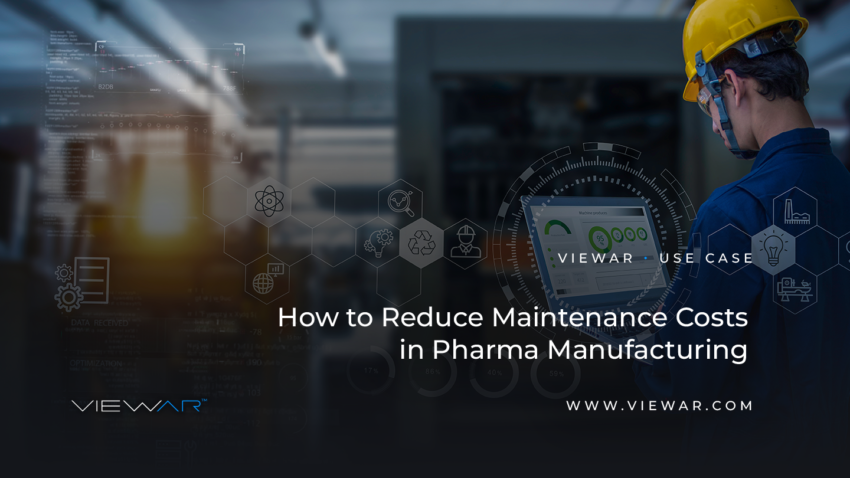 15.10.2022
How to Reduce Maintenance Costs in Pharma Manufacturing
Having regular maintenance procedures in place
Improper maintenance can lead to unexpected downtime,high opportunity costs and loss of production. This is especially damaging to a company when shipping delays and quality issues occur so often that customers lose trust. Some pharmaceutical manufacturing facilities are running 24 hours a day, every day of the week, to meet clients' demands. In this setting an unexpected machine shutdown could lead to dramatic financial losses or put a business at severe risk. This is why regular maintenance is an integral part in pharmaceutical manufacturing and why its performance is crucial.
By following a regular maintenance program, such situations can be reduced to a minimum. To reduce the risk of unplanned downtime, maintenance staff has to be trained properly and management needs to be aware of any irregularities in maintenance procedures. The maintenance team is following a rigorous routine and is expected to communicate effectively among their peers.
But how can you make sure that maintenance procedures are followed properly? And do you have a way to measure efficiency in your current maintenance procedures?
From time-based monitoring to condition-based predictive maintenance
Reactive maintenance is the common way to go: Whenever a breakdown occurs or poor performance is observed, the assets are repaired by a dedicated maintenance team. But if you want to minimize maintenance time and investment, you should employ proactive maintenance procedures. Thus, setting up maintenance plans and routines are ways of continuously monitoring machines. By acting proactively and maintaining machinery regularly, you can reduce unplanned downtimes and breakdowns. But is this the most efficient way of maintenance?
Leveraging AR will reduce errors and increase productivity. It enhances the view of the physical world with computer-generated images, videos, and other content, thereby presenting information in a new way.
Predictive Maintenance with Augmented Reality
IoT Data Visualization
A reliable way of predictive maintenance is based on asset conditions – also known as condition based maintenance. By implementing augmented reality, you can visualize the current state of a machine using IoT data visualization, thereby improving efficiency and quality even better compared to time-based preventive maintenance. You can reduce operational expenditures, limit negative effects of unforeseen circumstances, and predict and prevent potential issues before they arise. By following a technical approach, predictive maintenance can lead to operational and maintenance cost reduction.
Augmented Reality Workflows
Having digital workflows in place can be beneficial for more efficient maintenance procedures and can increase the quality and efficiency of your maintenance. Organizing maintenance missions in digital step-by-step work instructions will reduce human errors, reduce machine downtime, and increase overall efficiency in the long run. By eliminating manual and paper-based maintenance procedures, your workers can focus more on the tasks themselves than the organization and planning of tasks.
AR Remote Assistance
Even if you have predictive maintenance systems and checks in place, update your maintenance plans regularly and keep internal training up to date, there are events out of your control. Pharmaceutical facilities have some of the most complicated production cycles worldwide and failures of machinery have a huge impact on a company's profits. The cost is way beyond the expense of new parts: maintenance time, downtime, opportunity costs, replacement costs, … If you cannot prevent failures before they arise, you need to handle them as quickly as possible by highly trained experts. And if experts aren't available on site, you can use remote assistance or internal workflows so regular workers can repair the required parts.
Why Employ Augmented Reality in Pharmaceutical Manufacturing?
As technology advancements are accelerating at a rapid pace, it is important to apply future oriented solutions. Digitalization of Pharma manufacturing with augmented reality can help to address ongoing challenges, adapting to new and previously unfamiliar technologies to use them to their full potential. Pharmaceutical industry workers have to be fully equipped with the right tools to reach their full capacity, being able to react adequately if a machine breaks down.
Pharmaceutical companies will want to work continuously and efficiently in the long run and ever new technology that can add additional value needs to be integrated into one system to work smoothly together. Augmented reality can have a huge impact on your manufacturing company, increasing efficiency in many different areas. Together we can find a custom solution that will fit your needs and give you all the benefits you require.
What do you want to create today?