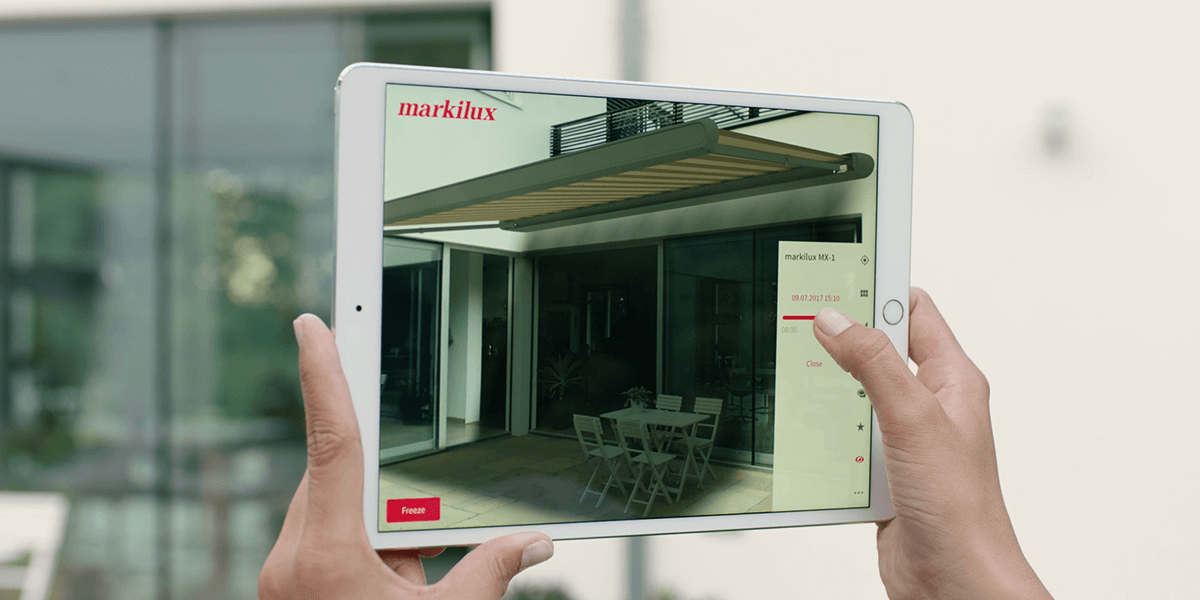 September 21, 2017
Markilux and ViewAR present the 3D-configurator of the Future
The new markilux-3D Augmented Reality app already runs on Apple's ARKit, presented with iOS11 and lets you custom-design your own awning in more than a million ways, even letting you simulate the shade that will be spent on any given date.
For more than 40 years the German Awning-manufacturer had been producing awnings and other textile projects. Providing more than 1 million ways to customise, every customer will find its right fit. Now to present this portfolio to clients in the most appealing way, in real-time, in their home, Markilux and ViewAR presented the new 3D-configurator supporting Augmented Reality with Apple's introduction of ARKit on September 18th.
But it's not only about visualisation – the new app even lets clients create custom-models in each and every size, choosing among hundreds of fabrics and deciding on the right angle in order to spend enough amount of shade. Shadow simulation – this unique feature inside the app allows you to simulate the amount of shade spent by your virtual awning at any given day or time, just choose it in the menu and you will see how much sun you will have on your front porch on July 4th next year.
Further features include: Animations: Open and close your awning, Infinitely variable change of depth and width of your awning (supporting parametric models and animations), Material-Configurator with more than 250 fabrics (parametric appliance of these fabrics), Add extras, like "Shadow+", the extension for your awning, 3D-catalogue
The app is available in the iOS App Store for devices like iPhone 6S and later as well as the iPad 2017 and later, running iOS. An Android version will follow soon.