23.10.2019
ViewAR @ Augmented World Expo 2019
From October 17th until October 18th 2019 the 4th annual Augmented World Expo EU took place. More than 2.000 AR enthusiasts met at the MOC in Munich (Germany) to talk about the latest innovations in the field of Virtual and Augmented Reality.
With over 100 exhibitors, more than 125 speakers and 100 session taking place across two innovation packed days, the Augmented World Expo is the biggest event of it's kind in Europe. For the 4th time in a row, creators, developers, startups and product leaders from all over the continent gathered in the beautiful Bavarian city of Munich to share their ideas and thoughts on the still heavily emerging industry of Virtual and Augmented Reality. Among them were industry giants like Amazon, Facebook, Magic Leap and Google.
ViewAR sponsors the AWE EU 2019
As an official sponsor of the event, ViewAR presented its All-in-One Augmented Reality System, opening the world of AR technologies to web developers. Thanks to its modular structure and JavaScript-based API, it is now possible to create advanced AR functionalities faster and more efficiently, shifting the focus towards UX and content. Moreover, visitors of the ViewAR booth had the exclusive chance to get a first glance at the newly designed developer portal, which will be launched within the next few weeks.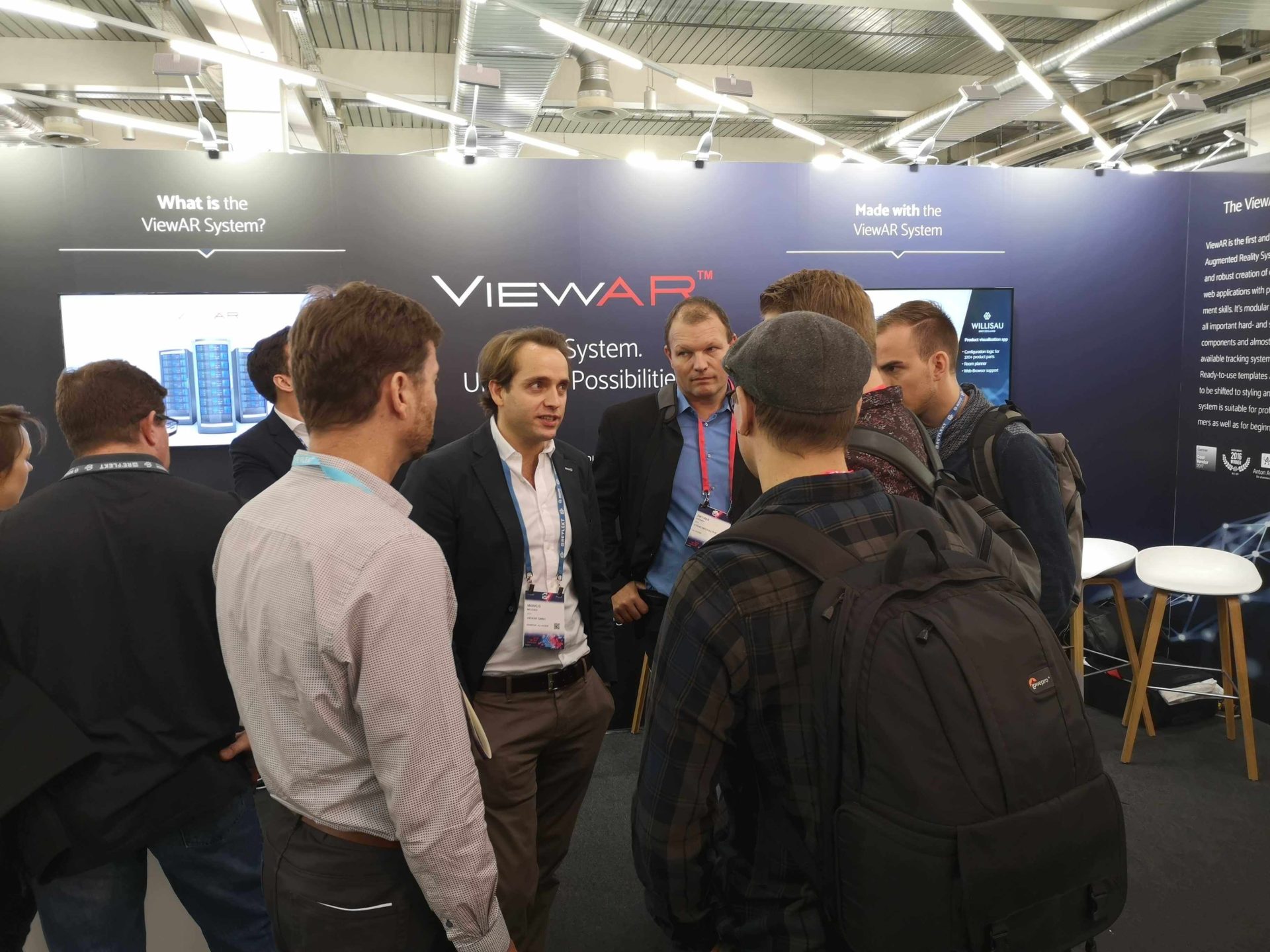 Engaging talks at the event
Markus Meixner, ViewAR's Founder and CEO also hosted two talks in front of a highly engaged audience. Under the heading "Using web technology to build AR apps" he showed that for a long period of time, AR development was only accessible to people with specific industry knowledge. However, the ViewAR System now offers an intuitive toolset, which makes AR development, purely with web development skills possible. To learn more, simply click here.
His second talk, entitled "Indoor navigation tracking systems and their applications" highlighted the advantages and disadvantages of various tracking systems used for indoor navigation. Furthermore, ViewAR's unique Tracking Fusion System was presented. It combines the advantages of ARKit and Bluetooth beacons to dramatically increase the accuracy of indoor navigation applications.
ViewAR Tracking Fusion System: Combining ARKit/ARCore movement with beacon positioning to improve accuracy
For more information on the system, contact us here. We are already very excited about what the next year will bring and hope to see you all again at the AWE EU 2020.