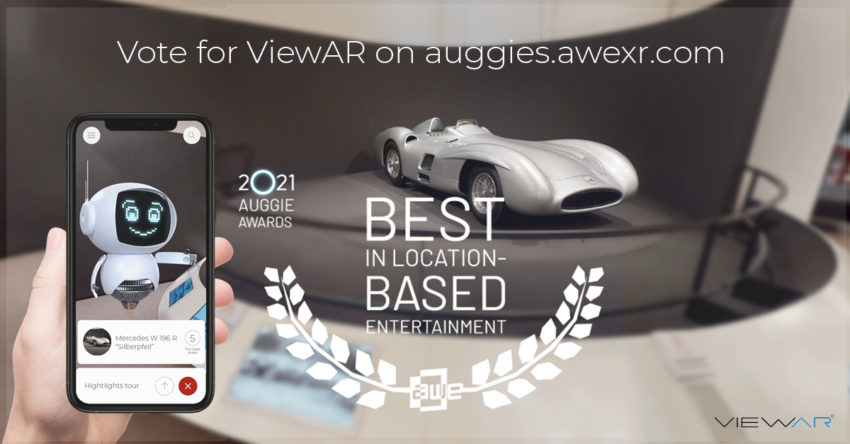 24.09.2021
ViewAR is nominated for the 2021 Auggie Award. Vote now!
GREAT NEWS! We are proud and very excited to tell you that we are nominated for the Best in location-based entertainment at the 2021 Auggie Awards!
The moment we've all been waiting for. The 2021 Auggie Awards are open for public voting.
Now we need your help! Voting is open now until October 14th! We'd love and appreciate the support from all of you. Our clients, partners, friends & family and the whole AR community can help us win this award. Just visit auggies.awexr.com. There you have to quickly register. Then search for "ViewAR" and click the 'Vote' button! Each vote, like, and share means a lot to us.
Our project for indoor-navigation at the Technical Museum in Vienna offers personalized tours for visitors. Within the museum app, you can start your indoor navigation. Then, find your way around with a little Guidebot that also tells you more about specific objects. This makes visiting museums more fun and entertaining while providing an innovative approach on learning.
Using our indoor navigation technology, you can now directly localize more than 12.000 exhibition objects at the museum. But also, many different and personalized tours are now available in the museum app. Additionally, you find detailed information when pointed at the objects. This can be text, images, audio or video. You can find out more about the project here.
By the way:
As nominee in two categories, ViewAR won the Auggie Award 2016 in Silicon Valley, CA for the world's best Augmented Reality app. Read more about it here.
Check out the interview with CTO Markus Meixner right before the Awards ceremony:
About the Auggie Awards
The annual Auggie Awards are one of the most recognized industry awards for augmented reality in the world since 2010. Now, the Auggies continue to showcase the best of the best in augmented, virtual and mixed reality.
As of now, until October 14th, the public votes for the nominees they wish to see as finalists in each category. The voting will bring out five finalists in each Auggie Award categories. Then, a judging round will evaluate all projects from October 15th to October 31st. After rating all finalists the winners for each category will be announced on stage at AWE USA 2021 on November 10, 2021.
About ViewAR
ViewAR provides a complete infrastructure to create, manage, test and publish augmented reality applications. The ViewAR System is for developers as well as inexperienced creators. They can use AR technologies to create immersive AR experiences across all industries. The All-in-One system offers solutions for indoor navigation and guidance; Industry 4.0 & IoT; remote assistance and product visualization.