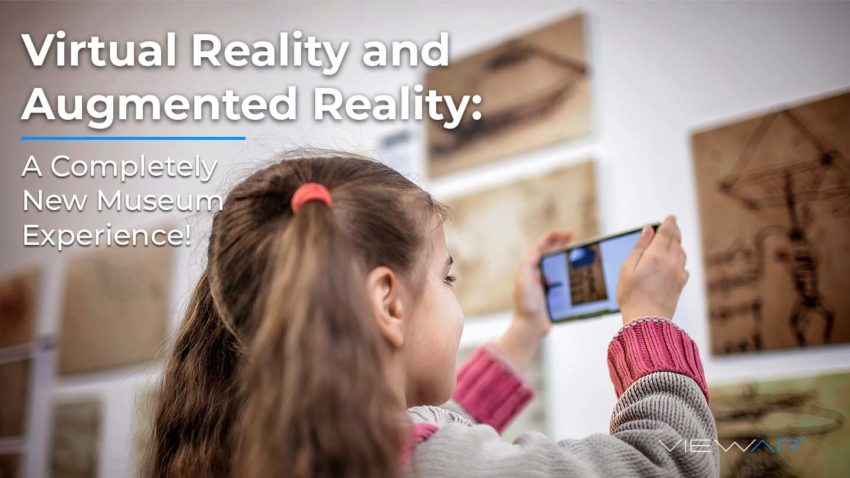 24.02.2022
VR and AR: A New Museum Experience!
There is a big confusion about the difference between augmented reality and virtual reality and what each of their benefits are in layman terms. In the following article, we would like to present the applications of each and how they can benefit museums in an innovative way.
Virtual Reality
Virtual reality (VR) is probably the term that readers seem most familiar with. In VR, users are immersed in an interactive simulated digital environment. They can move around, usually in first person, and explore their surroundings. This can be useful for training purposes as the virtual environment is safe. It can also be useful for people who are far away and want to experience a place they can probably never visit.
Virtual Reality in Your Museum
If you offer virtual reality in your museum, this means that people all around the world can experience your exhibition without actually being there. Create a digital twin that encompasses not only the exhibition pieces, but the whole environment. This makes it possible for visitors to experience a digital museum exhibition from start to finish. Virtual reality can have many benefits especially during the current pandemic, as you can have more visitors at once. In addition to that, people from all around the world can have an inside look without traveling afar.
Augmented Reality
Augmented Reality (AR) is a different technology in which the real world is additionally enhanced with the virtual – expanding it and life itself. In that sense, it can improve an experience in a lot of ways. It can alter our sense of reality, by overlaying the actual world with realistic images, sounds, noises and other sensations or digital information. But how can this new technology enhance the experience of the visitor in your museum?
Augmented Reality in Your Museum
Enhance your museum with augmented reality! Visitors can then point their phone on the exhibition-piece and display additional information. With an augmented reality app, users can see more details about the environment on their line of sight. If you combine several types of media, it can make an exhibition even more interesting and immersive. Or just add indoor navigation so people can go a predefined route – also adjusted according to the preferences /manager of the museum.
You can see the benefits of using such an indoor navigation app in a museum in one of our recent articles. AR-assisted navigation in museums will remain a hot topic and excite the masses even after the pandemic. The most important benefit of adding augmented reality to your museum is that it can help you to perform your educational task as a cultural institution more easily. It will also improve the attractiveness of your museum in the following ways:
Enhance the visitor's experience
Keep visitors engaged and staying longer
Improve retention to keep visitors coming back
Final thoughts
New technologies are on the rise! Virtual and augmented reality are just two of many new advances that can not only improve museums, but whole industries. These technologies find applications in manufacturing, healthcare, transportation, and many others. In large production facilities, AR navigation, for example, can save time and increase efficiency. Additionally, the visualization of data can be updated in real time. This way, employees in the industrial environment always remain informed about currently necessary and future repairs or maintenance work. Simplify the training of new employees: Visit locations such as factory halls or office buildings virtually from anywhere in the world. Employees can learn and test processes in simulated environments without the risk of causing an accident. Several studies and statistics point out that augmented reality is the future of how consumers consume content and buy products:
Business owners who already implemented AR believe that augmented reality content leads to a more immersive discovery experience for consumers and boosts customer engagement time [Forbes]. It also leads to better retention. Over 71% of consumers said they would come back for the experience [Threekit]. Over the course of six months, adaptation of augmented reality in businesses has increased up to 8% [Yordstudio]. This means that sooner or later a lot of businesses will implement augmented reality. Do not get left behind! It is estimated that consumers will prefer using AR in their daily lives in the future. Up to 35% have already used it or are using it regularly [Yordstudio]. As you can see, AR and VR are technologies with a wide range of applications in many industries. But the cultural sector – including but not limited to museums, libraries, galleries – is still a step behind. You don't want to miss this, so read further to catch up and find out how you can implement both in your museum.
Conclusion
At first glance it seems that you would need complex and expensive tools to implement such a technology. Nothing is further from the truth! With the VIEWAR System, you can create a hardware-free, markerless, indoor navigation based on augmented reality with ease! Adding unique interactive experiences with augmented and virtual reality has never been so easy. Either we can do everything for you or you can do it yourself with a few clicks. No programming skills required. Enter your contact details here and one of our experts will reach out to you.