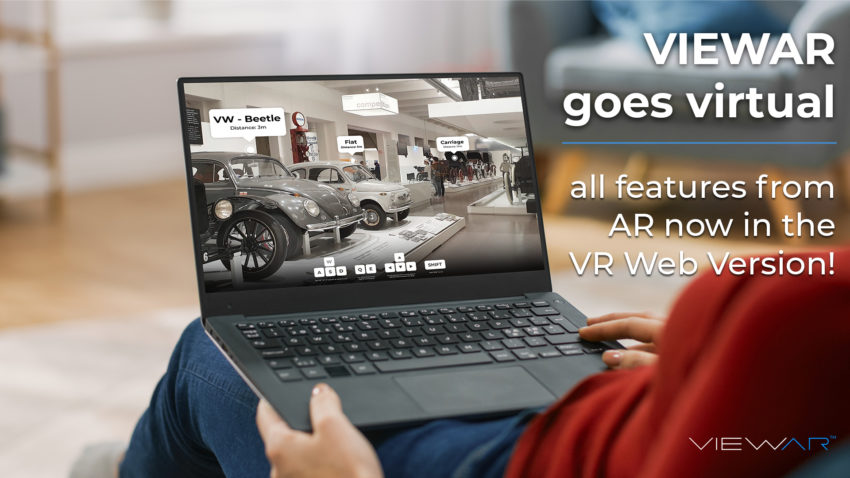 25.03.2022
VR Web Experience – all AR features now in VR
VIEWARs newest feature now lets you virtually explore locations from anywhere in the world in the convenience of your own home or workplace. Our virtual reality (VR) Web Experience gives you guided tours and navigation to specific points using a 3d scan of your location. Also, you can go through workflows, complete step-by-step instructions and visualize IoT data right from your desktop. By this, not only museums and real estate can offer an immersive experience. But also training and onboarding new employees in industrial fields can become much more efficient. The VIEWAR VR Web Experience takes your digital twin to the next level. 
How does a VR Web Experience and the setup process work?
For the VR Web Experience you need seamless 360 panoramic images for a spherical view, and a digital twin, created with a 3D scanner or 360 camera. Then, the virtually walkable environment is created by transforming 360 seamless panoramic images into a realistic 3D space. You can now rotate the screen 360 degrees, in all directions. Additionally, you can move from one panoramic image to another. Once processed in the VIEWAR admin portal, these images become a virtual tour. 
Step 1 – Import your map into the VIEWAR admin portal (https://youtu.be/veVxKeK1loQ?t=112)
Step 2 – Set up PoIs and connect them to tours, set up your workflows, instructions, checklists etc.
Step 3 – Persent your VR browser experience by sharing your project link or or embedding it on your website.
Now you can enjoy the benefits of your new VR Web Experience! Additionally, the virtual walkthrough can be embedded on your website or directly accessed by scanning a QR code. 
Why are VIEWARs VR Web Experiences different?
Many companies already offer virtual tours, virtual desktop tours or VR browser tours. However, these are often simple walkthroughs, where you have to click around the venue and might accidentally find what you were looking for or even get lost in the virtual location. Moreover, some are even plain virtual video tours. As a result, they are not ideal for complete control and individual navigation. However, our VR Web Experience can offer guided tours and navigation for your users, letting them find what they are looking for more efficiently and not wander around totally disoriented your digital location. You can even have VIEWAR's 3D avatar in the virtual tours in the browser, guiding users around and using text-to-speech to explain details.
Furthermore, a helpful and informative virtual tour is not just a series of panoramic pictures. Viewing a variety of details such as videos, texts, and links to your webshop or intranet in an interactive web environment will increase the user experience and create a higher engagement rate.
Combined with our other VIEWAR features, you can offer a truly enhanced and immersive experience for your customers and workers. For example, implement interactive workflows, checklists and instructions. You can also connect live data to the virtual model of your real equipment. Adding scene models or digital art into the virtual tour will simply augment the users relationship with your company or your services.
Main use cases for virtual tours using the VIEWAR feature set
VIEWAR' s Web Experience offers a variety of features and covers a lot of use cases:
Museums: Guided tours with virtual avatar and item information
>read more here
Maintenance: Navigation and guided workflows
(step-by-step instructions, checklists,..)
Manufacturing: Virtual Staging of new equipment
Human Resources: Onboarding for new employees
Real Estate I: Guided tours with virtual avatar
Real Estate II: Virtual Staging of real estate
To sum up, the scenarios you can target with VIEWAR's feature set are endless! Do you need more information about our new feature or our solutions? Would you like to schedule a demo call or need help identifying the most valuable use case of augmented reality? Contact us. Our VIEWAR experts are happy to help you!