26.04.2017
Wien Energie & ViewAR on Industry 4.0
Austria's largest regional energy provider uses Augmented Reality powered by ViewAR.
Wien Energie is responsible for ensuring the reliable supply of electricity, natural gas and heating to around two million people, 230,000 businesses and industries, and 4,500 farms in the Greater Vienna metropolitan area. Activities also performed by the company include waste recycling, providing energy-related advice and services, facility management, telecommunications. Also, Wien Energie is active in a number of projects in Europe.
Wien Energie's vision
"We want to become more innovative and enter into new cooperations", Wien-Energie-Chief Michael Strebl stated when taking over his new position as the chairman of the board in autumn 2016. During the "Energie Innovation Challenge 2017" one particular project presented by a team of Wien Energie, ViewAR and WienIT impressed the executive board convincingly. The use of Augmented Reality technology in maintenance services was evaluated as a pioneering step towards industry 4.0.
Applications using AR technology demonstrate measurable advantages when it comes to maintenance procedures. Supported by hardware like Microsoft's HoloLens, a repairmen could use relevant real-time data of the plant to evaluate the situation and plan further steps, even anchoring virtual information to certain positions inside the plant. This simplifies the daily work of the repairmen, enabling them to recall instructions for their activities like how to change a filter or recognising certain parts of the machines ahead.
Augmented Reality shows the way
Indoor Navigation via AR leads the right persons to the appropriate places, enabling them to collaborate with others, e.g. specialists, not physically present at the site. But AR's true strength in industry 4.0. is revealed in tense situations, crisis you might say, in which certain expertise normally isn't available and must be requested from abroad. Here the display of the head-mounted display does a highly useful management job for effective maintenance.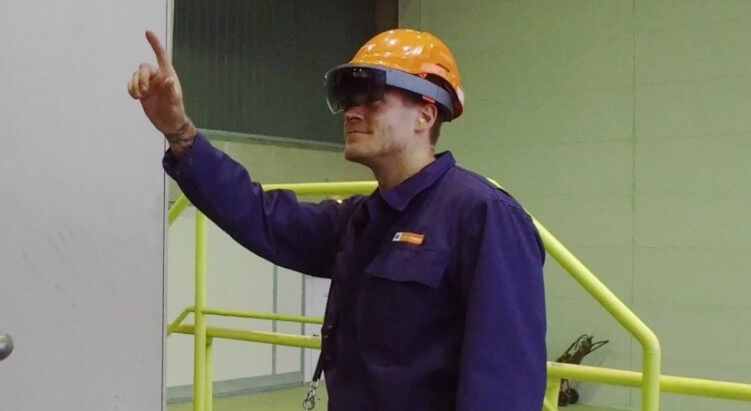 This is quite a big achievement. "The device recognises what you are currently looking at and displays relevant data, allowing a hands-free approach all the time", explains Markus Meixner, CTO and owner of ViewAR, some of the undisputed advantages of the project. ViewAR's system leads to effective communication in accordance to the aspirations of industry 4.0, saving time and money on the way. Wien Energy has already understood the great potential of the co-operation with ViewAR.
Real time data at the point of action
Effective indoor navigation
Efficient use of expertise
"The innovation-challenge has opened new paths within our company. Combining our well-oiled machinery in Wien Energie with the dynamic world of start-ups brought us new impulses. Times, when innovations were exclusively developed inside our doors and afterwards promoted in order to become profitable are over. It must be allowed to try something new, otherwise we will surely fail in a long term", states Karl Gruber, managing director of Wien Energie. The development and use of Augmented Reality in the biomass power plant Simmering was the first step to test new technology for its applicability. The positive feedback of all partners involved now opens new chances on the way to digital plants and further industry 4.0 projects.