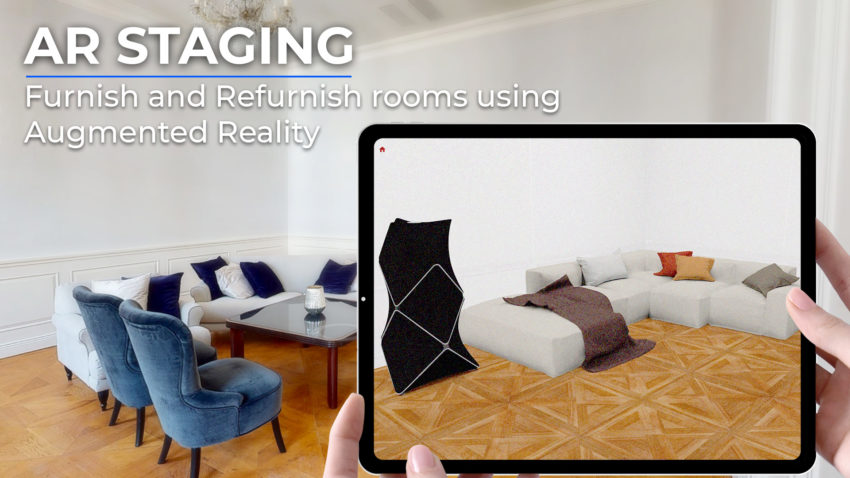 12.05.2021
Augmented Reality staging: See how easily you can present beautifully staged homes!
When it comes to the real estate market, it's a brave new world. Augmented Reality staging is definitely part of it, developed to make your place look like something out of a magazine. It has never been easier and more convenient to sell your location using AR staging with your mobile device.
It is proven that home staging can help influence your buyers, increase the selling price compared to "unstaged homes" as well as accelerate the selling process. The future of home staging goes even further! Augmented Reality staging is cheaper, faster, and easier than physically staging a home. With AR Staging by ViewAR you can boost customer engagement and efficiently drive sales.
This article describes AR staging and provides five reasons why AR Staging will help sell or rent your place faster and for a higher price.
What is Virtual Staging?
Virtual Staging is the process of using panorama images and a 3D Scan of an apartment, a house or single rooms and digitally staging furniture and accessories instead of physically placing these objects at the venue. Using Augmented Reality, the user can integrate highly realistic furniture, décor, and accent pieces into the virtual scan of a vacant or occupied place. The camera of a mobile device, such as smartphone or tablet, visualizes the furniture or decor elements in the surrounding space with the help of AR.
Here are some examples of homes that can benefit from it –
Homes that may have an outdated décor or clutter
Completely vacant properties
Homes with tenants, where the owner would not be able to physically stage the space.
The process of Virtual Staging is as easy as 1-2-3.
Step 1: Scan
Create a 3D Scan of your location, for example using a Matterport camera, or hire a professional service to scan your building.
Step 2: Upload and edit
Empty, furnish and re-furnish rooms with Augmented Reality. Place 3D furniture models into your digital twin environment.
Step 3: View
Showcase your virtual staging on location in the physical space and see all 3D furniture as if it were placed in the real environment.
Here are five reasons why Staging with Augmented Reality can help you sell or rent your place faster and more efficiently.
# 1 Cost effective
In the highly competitive real-estate market, home staging makes a difference. According to a survey, staging can increase the sale price of a property from 1% to 15%. On a 300.000 EUR home, that's an increase of 3.000 EUR up to 45.000 EUR!
Additionally, virtual staging is significantly less expensive than traditional staging. While traditional staging costs approximately 600 EUR per room, virtual staging can be done for much less. No need for additional organisation effort. No need to hire an interior designer, rent furniture, not to mention dragging around all those heavy objects. 
# 2 Highlights important aspects
With virtually staged interior design potential buyers can pick up on details they might not normally have noticed. They can see how much space is available to them. As a result, they will notice highlighted details like recessed lighting in the living room or arched windows in the kitchen. This means they can see how much space is available to them and notice things the would not have without AR staging.
#3 Supports the buyer's imagination
Augmented Reality staging makes it easier for buyers to imagine the place as their own. It can be difficult sometimes for clients to envision themselves living in a space. Virtual staging can provide interior design that is appealing but at the same time not too distracting. This makes it easier for a potential buyer to focus on how their own belongings will fit in the home. Virtual Staging can also be customized to suit the tastes of your target market you are approaching and easily be changed in order to appeal to a different demographic.
# 4 Sets your location apart
When deciding to invest in real-estate, a potential client might look at more than one place before making a decision. Certainly, presenting a beautiful and thoughtful set up will leave a lasting impression. Moreover, it will positively reflect on you as a thorough and detail oriented real-estate agent. Selecting colours for the interior, staging it with the furniture – all of this is possible thanks to AR furniture apps. Virtual Staging can enhance the appeal of your property listings. Therefore, it stands out from the crowd.
# 5 Cuts time on the market
With physical staging, you might have to move some or all of the furniture out of the rooms to be staged. Or you find yourself confronted with a very cluttered room, outdated or damaged furniture. Traditionally, real estate staging is a long-drawn exercise involving rented furniture, interior decorators, and photographers. Virtual Staging for real estate is a path-breaking technology that provides all the same benefits at a fraction of the cost and effort. Using AR Staging, you can easily empty rooms and will not need to move any of the furniture or belongings for virtual staging. Virtual staging shows a house as it could be. Consequently, this could lead to excited buyers, increased selling prices, and reduced time to sell or rent the property.
Augmented Reality Staging from ViewAR allows you to place 3D models of furniture in a Matterport created digital twin. With AR Staging, even fully furnished real estate with outdated furniture can be digitally staged with the latest trends. That is to say, it can make your location more appealing for your target audience.
Increase  your sales and reduce cost using ViewAR's AR Staging!