26.11.2022
Better orientation on campus with augmented reality indoor navigation
The challenges on campus
New challenges await students as they begin their studies in the first semester. These include finding their way within a complex university building. How do they find their room where their lecture is being held? Is there barrier-free access? Due to the complexity of university departments, wayfinding can be extremely difficult: Students additionally need to be quick when getting from one classroom to another. Especially if they are pressed for time. But onboarding new faculty members can be a challenge too. What's the fastest way to get from this room to another? Where can faculty members find the teaching materials they need?
The difficulties in wayfinding and navigating the complicated university structure are not the only difficulties that students and staff members have on campus. Let's look at them in more detail:
Information overload: Finding what they need on campus can be difficult for both students and faculty members, because there are so many resources and services available.

Inadequate technologies: In some circumstances, colleges may lack the technology required to fulfill the demands of students and faculty members, creating challenges with information access, assignment submission, and other issues.

Lack of Accessibility: Navigating a university campus can be particularly difficult for individuals with impairments. These obstacles, which might range from uneven sidewalks to buildings lacking barrier-free access, can prohibit people from using all the resources that are available to them.
AR Indoor Navigation helps to find rooms easier
Efficient indoor navigation is becoming increasingly important. First-year students in particular have a tough furrow to plow. With modern campus navigation software, wayfinding can be provided directly to users' mobile devices in a user-friendly way. Indoor navigation can be an accurate, effective, and inexpensive tool that provides users with a more efficient and intuitive way to navigate faculty.
No matter how big or complex the university building is, AR indoor navigation gives consumers a simple and straightforward way to get around. The application employs augmented reality technology to give users step-by-step, real-time directions to their destination. These devices not only offer interior navigation but also interactive maps, building floor plans, and other helpful features. To give users a precise and dependable means to navigate the campus, these devices leverage precise digital twin data. This is crucial since it might be simple to become lost or confused in huge, complicated buildings.
The affordability of indoor navigation is another benefit. Indoor navigation software is a less expensive alternative to conventional wayfinding techniques like printed maps or signs that gives users a more effective and user-friendly way to move about the university facility. University buildings should have indoor navigation systems, especially for first-year students who are still adjusting to their new surroundings. Indoor navigation is a great technique to enhance wayfinding on campus because of its user-friendly interface, accurate and trustworthy data, and affordability.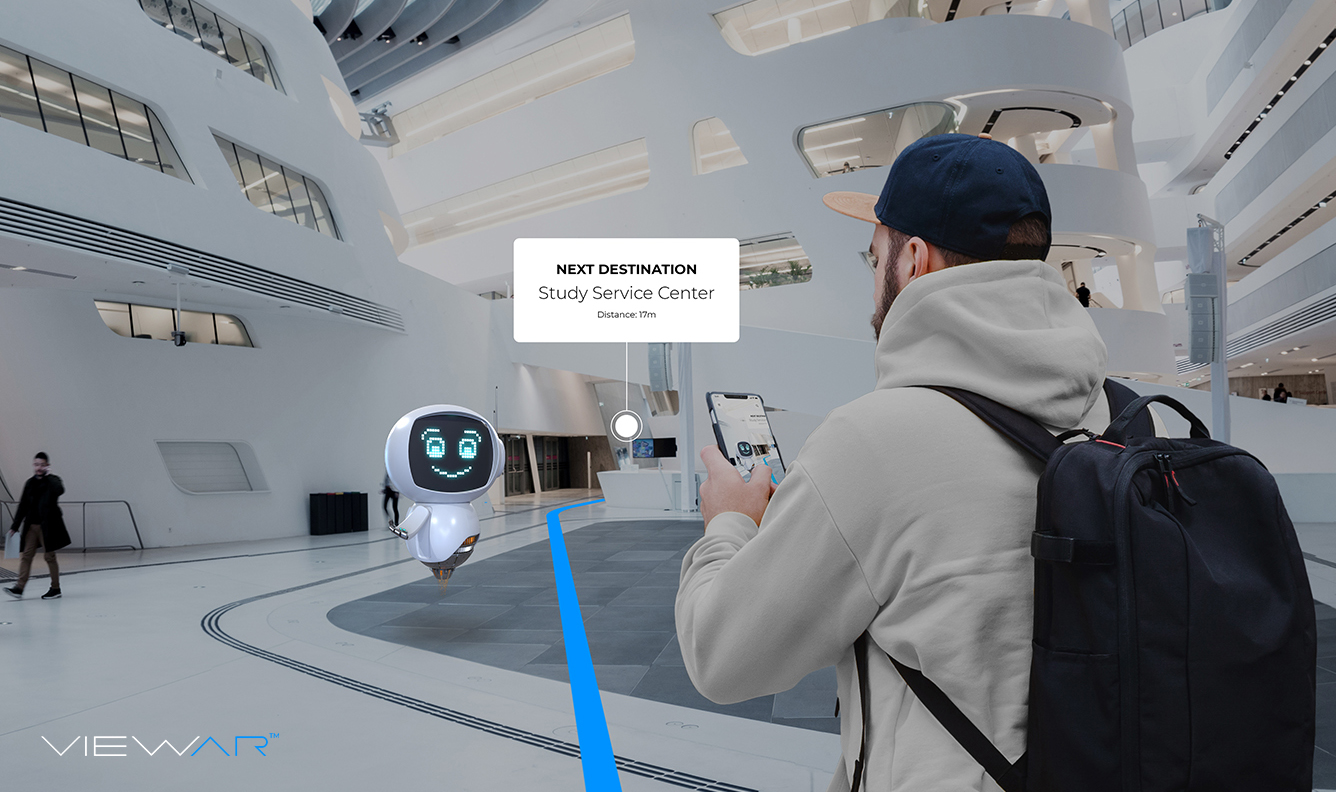 Modern Indoor Navigation with AR
Provide students with guided navigation and details about the exact location they are in. Introducing indoor navigation to your university can not only improve life on campus for students, but also improve work for your staff overall. Managing a university is a huge effort that can be made easier with augmented reality indoor navigation, workflows, checklists, and other features.
With INDOAR, we offer an all-in-one application that includes all the features needed to address ongoing challenges and help people find their way around their location. An efficient navigation software that guides students, faculty and visitors through the faculty. In addition, VR functionality provides additional capabilities. First-year students can familiarize themselves with the faculty before they arrive. With the help of AR indoor navigation, AR workflows, and AR checklists – all in one app – you can also make facility maintenance easier for university staff!
The benefits AR indoor navigation
Indoor navigation with INDOAR offers benefits to a wide range of industries. While getting to your destination efficiently is already a great benefit, indoor navigation with augmented reality has many more advantages.
Personalized routes: You can specify the route that a user should definitely take or avoid. Perhaps certain passages are closed to the general public and accessible only to employees. In this way, the user can be steered in a certain direction depending on a person's permissions. Routes can either be calculated automatically or set manually to ensure that people only go where you want them to.
Tours and guides: By offering digital tours, you can guide visitors through predefined routes or paths within your site, allowing them to use their own mobile device. Navigate your visitors based on shopping lists, exhibition topics, or simply help them get comfortable with your office building. The application allows the creation of customized tours either by the administrator or by the user himself.
Additional content along the way: Close the gap between the physical and digital worlds by extending interactive content based on the visitor's physical location. View and interact with 3D objects and other types of content such as videos, text, and audio. Indoor positioning can be enhanced with additional features such as workflows, remote assistance, digital content (advertising, information, IOT data, etc.) and everything else that the VIEWAR suite includes. VIEWAR offers a combined solution of AR and VR (browser-based), which is more than what typical competitors offer in their solutions.
Conclusion
Convenient indoor navigation is an essential tool for modern universities, airports, shopping malls, factories, large office buildings, museums, cruise ships and hospitals. Transform your location into an extraordinary experience with the help of augmented reality so that your visitors not only see where they need to go, but also have an interesting experience on the way there!