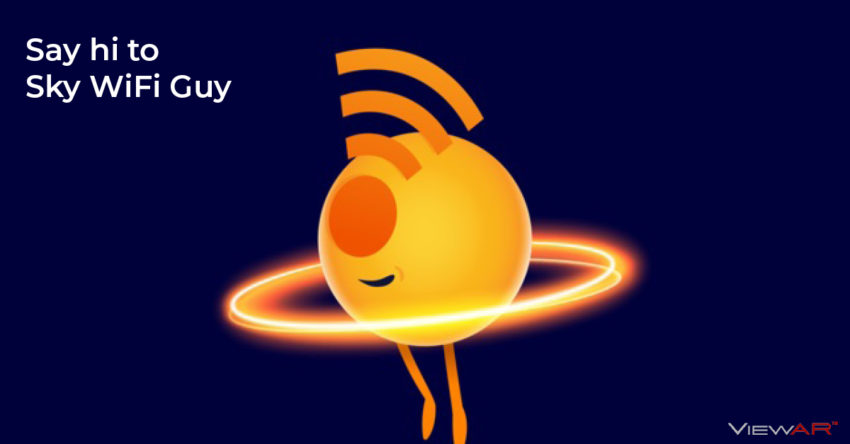 26.08.2021
Check your WiFi signal strength with Sky WiFi Guy
Wanna check your WiFi signal strength in your home? Want to find out about the WiFI signal strength in your living room? Maybe compare it to the signal in the bathroom?
Meet the Sky WiFi Guy! He is your WiFi measurement tool helping you see how your internet connection is performing throughout your home. If it's not strong enough, he will make a recommendation on how Sky Broadband can help improve it. This way, you can stream all the entertainment you want. Plus home office, video calls, online gaming and music.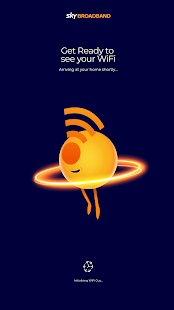 They say home is where your WiFi connects automatically. But paradise is where your WiFI signal is actually strong! Together with MyWave.ai, ViewAR built a measurement tool to find out exactly where that is. We created a solution to measure and visualize a WiFI signal in rooms using augmented reality (AR).
To check your WiFi signal strength, the tool measures the maximum download speed close to the router and the speed in the rooms providing a comparable speed result. Consequently, this result will be shown as the wifi quality/speed and estimated as poor or good. Depending on the result, the animated 3D avatar will visualize the quality of WiFi signal on this specific location. When you walk around the location, WiFi guy will instantly show you where the connection is good and where it's poor.
How can I improve my WiFi signal quality?
So, what if my WiFi in a specific room is weak? The WiFi guy not only measures signal strength in your house. You can interact with him and for example find out if you need a WiFi booster to enhance your connection. Together with the data-processing agency MyWave.ai, Sky New Zealand implemented a chatbot for customers that can directly be accessed through the WiFi Guy and help improve internet services.
A WiFi measurement App. But not as an app.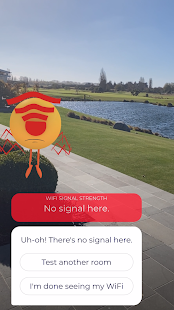 The Sky WiFi Guy is the first augmented reality App developed as an App Clip. An App Clip (or Instant App on Android) is a mini version of an app and focuses on the part of the app you currently need. This enables you to handle certain tasks more quickly and easier. It is designed to appear as soon as you need it, small in size and can be started within seconds on your Phone. This will avoid the hassle of installing a native app.
Providing the full feature set of augmented reality without an app installation is definitely a game changer for the whole industry. With this, you can interact with certain app functions much faster than before. Therefore, using App clips makes AR experiences user friendly in two ways. Firstly, you don't need to spend time browsing App Stores to find the correct function you need. Secondly, you don't have to download a whole app to use it for a task that might take less than a minute. Another advantage of App Clips over usual apps is that they will not get access to any sensitive data located on your iPhone.
How to check your Wi-Fi signal strength?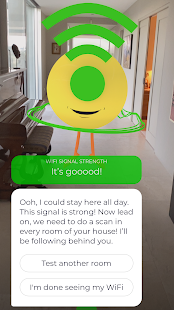 To use the Sky WiFi guy, check your WiFi signal strength and test your internet speed in different rooms you only need a smartphone. Since ViewAR developed this tool as an App Clip, you don't need to download and install an extra app.
start the app clip by opening a link or scanning a QR code with the camera of your smartphone
Click "see my WiFi" to get started
to help WiFi Guy get orientated, quickly film around your surroundings with your phone
stand next to the router and let the WIFI guy measure the base speed
now you can start walking around the rooms for speed tests
The solution runs on mobile devices with Apple iOS and Google Android that are AR compatible (ARKit/ARCore).
Find out more about our success stories and our augmented reality solutions. If you are interested, but cannot quite identify a specific augmented reality use case yet, contact us!
About Sky:
Sky is New Zealand's leading Pay TV and entertainment company and home to the best and broadest choice in live sport, movies, shows, documentaries and international news. Sky connects New Zealanders with the sport and entertainment they love, in ways that work for them – with the Sky Box and streaming service Sky Go for premium direct-to-home customers, contract-free streaming services Sky Sport Now for sport and Neon for movies and entertainment, and free-to-air channel Prime.
About MyWave:
MyWave delivers Intelligent Personalisation by powerfully combining AI, Personal Data and Proactive Automation to make every product or service centred on the customer. It uses the context of what the Data knows about you, what you have done before to get the right personalised outcome quickly and simply.