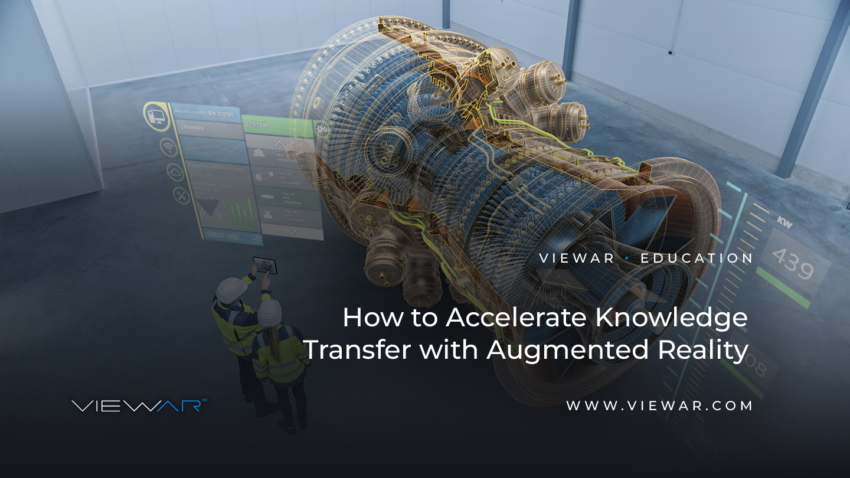 07.09.2022
How to Accelerate Knowledge Transfer with Augmented Reality
Introduction
Inefficient knowledge sharing costs large businesses $47 million (€ 41,3 million) per year! [prnewswire] With the surge in boomer retirement [pewresearch], job losses [cnbnc], and a rise of self-employment [ifs.org.uk], the specialized workforce in companies is declining, and previously held knowledge is leaving organizations . In fact, it is estimated that 42% of the knowledge acquired is unique to the individual [td.org] and this has to be re-learned by their coworkers. But how can you ensure the knowledge is shared among all employees who base their work on it?
Why Knowledge Transfer Is Important
Training is important for employees to improve their knowledge and grow their skillset. This can, in return, improve the efficiency of the organization. Employees can then take on more responsibilities and develop a deeper understanding of the overall connections between all the complex tasks involved [indeed]. Of course, training employees can be cost intensive [edume], but delivers a sustainable return on investment in the long run [tsw.co.uk]. However, there is much potential to reduce the repetitive training to a minimum by applying some foresight and planning.
After all, why would you want to spend money on something that has already been trained?
Sharing information and knowledge in a company can be a tedious task, but should not be taken lightly. It is the key factor and driving force for the creation of innovative products and services. Knowledge is one of the most important resources, allowing significant growth of a company when handled and diffused in a smart way. Therefore, the development of knowledge transfer strategies, methods, and frameworks, is a vital characteristic for further development of a successful business endeavor.
"Knowledge Transfer can help to
make innovation-systems more efficient."

ERA Portal Austria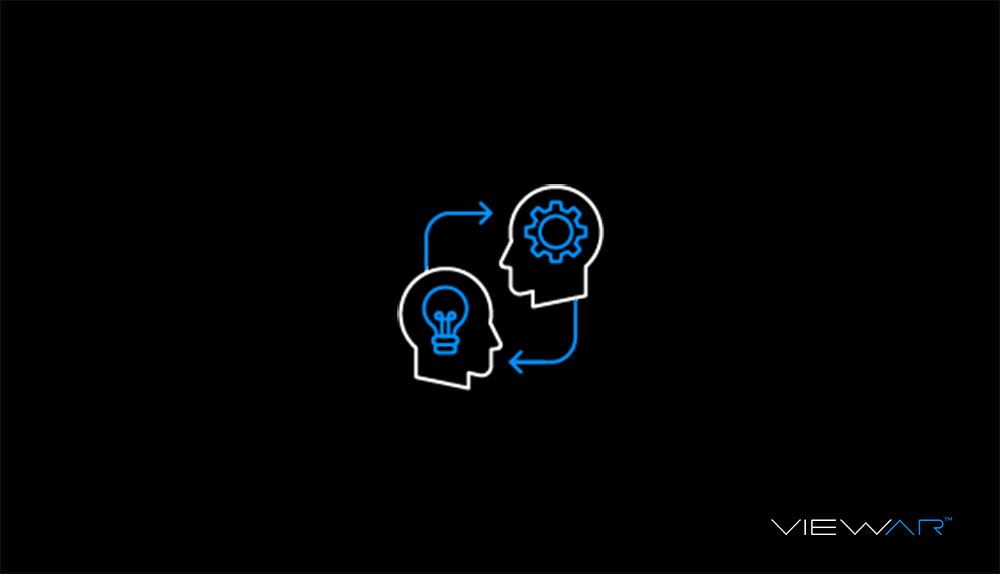 The Problem With Traditional Knowledge Transfer
Knowledge transfer is typically a multi-step process. Each step increases the risk of inaccurate information communication or perception. In traditional knowledge transfer, the employee transcribing the knowledge into readable information is limited by his language, the symbols (alphabet) describing this language, and the medium itself.
Of course, you can convey much more information in a video than writing it on paper, as non-verbal cues help establish the context. However, especially when it comes to complex tasks, describing the thing itself can be tedious. In some cases using videos or audio recordings might only add to the complexity of the task rather than making it more easily digestible. Plus recording everything and consuming the material is more involved compared to just written information. There needs to be a more innovative way to transfer information from experienced employees to new hires. One of those ways is implementing augmented reality through the VIEWAR Ecosystem.
How AR Can Overcome Challenges in Knowledge Transfer
It has been shown that traditional knowledge transfer comes with certain challenges and that knowledge transfer can be a challenge by itself. Getting the desired results from thoughtful knowledge transfer is aided by seeing new ideas and innovations as something interesting rather than a threat. One of these innovations is the use of augmented reality as an immersive e-learning environment.
Augmented reality makes knowledge presentation more interesting, enabling hands-on learning and lowering the possibility of misunderstanding. By adding visual and audio cues to support the text, AR can also get over language and symbol constraints. Additionally, AR can create a shared environment where several users can interact with the material at once, lowering the possibility of miscommunication and encouraging collaboration.
There are several advantages of using augmented reality over traditional knowledge transfer methods:
It is more engaging which leads to better retention [CentreOfBrainHealth],
complex tasks can be made easier to understand, and
dangerous situations can be practiced more safely [Forbes] while still keeping a sense of realism [elearningindustry].
Augmented Reality can improve the effectiveness of employee training because employees can recall the information with greater ease [brightaffect].
Augmented reality helps to maintain high quality of information and keeps inexperienced workers efficiently trained and informed at all times. This cuts training time and reduces time-to-information. Annotated instructions, on-demand training, or remote expert guidance can improve communication, knowledge retention, and costs in the long run. By exchanging information with augmented reality, you can break down complex assignments into easy tasks without needing additional resources.
3 Ways to Accelerate Knowledge Transfer with Augmented Reality
The interest in AR is exploding and it is forecast that over 23 million jobs will be enhanced by either AR or VR technologies globally by 2030 [Statista]. It will improve our ability to absorb information and make better decisions. It promises satisfactory results as an interface between humans and machines. We can all agree that having an AR-strategy is not an option, but a necessity if a company wants to stay competitive in the future of business as many industry players will embrace and derive operational benefits from it. There are several ways how augmented reality can be implemented with the VIEWAR Ecosystem. Depending on your industry, you might want to consider one way over the other:
Digital Work Instructions:
Move from traditional knowledge transfer to digital workflows, reducing the overall use of clipboards and paper lists. Improve the communication of information by adding valuable digital notes and dynamic checklists. Help your workers by reducing the effort to maintain and manage digital inspection workflows to a minimum. If you want to improve your traditional workflows, click here to find out more.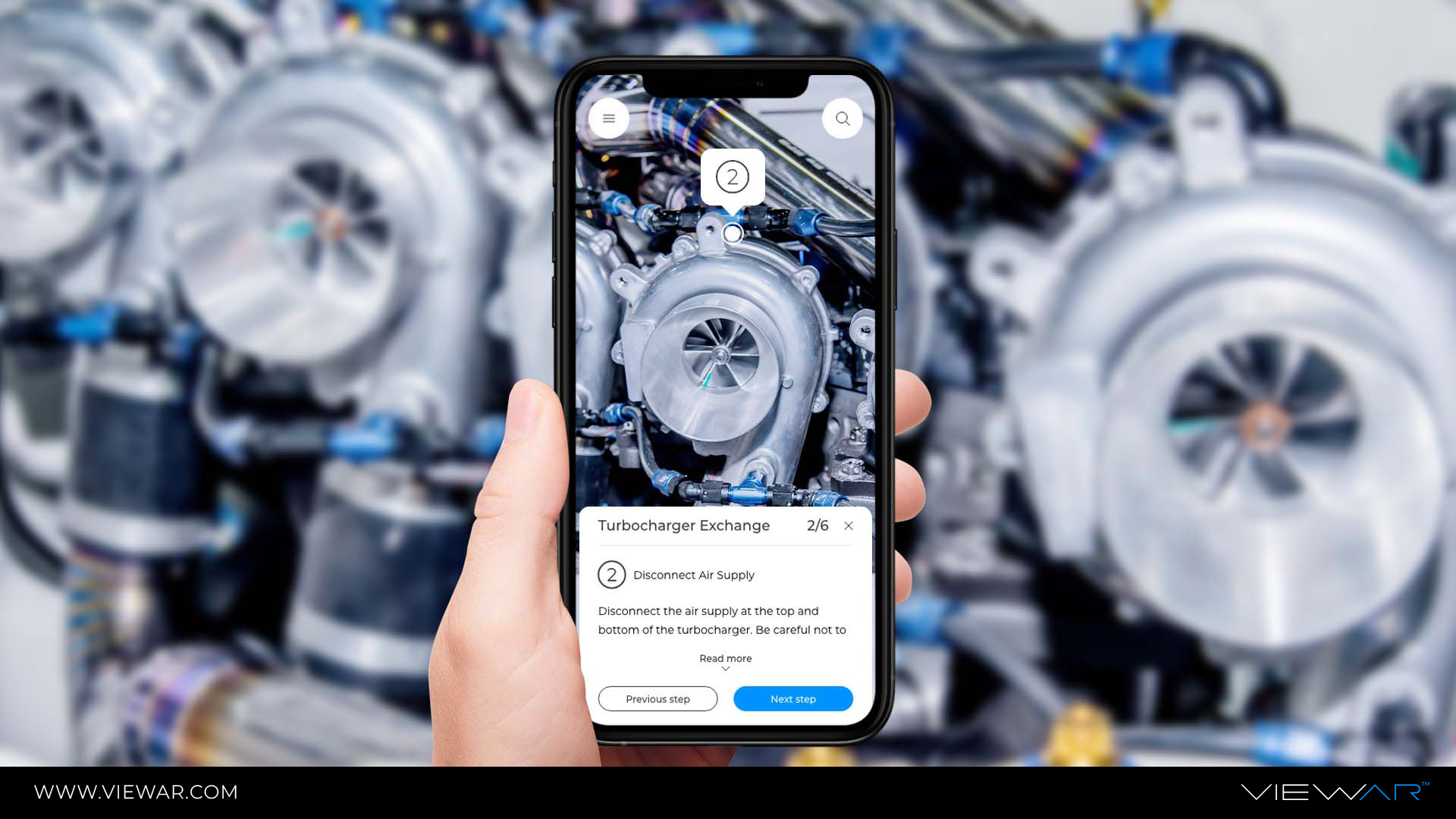 Remote Assistance:
Combine live streaming with augmented reality technology to enhance inspections and empower self-sufficient support processes. Share data, receive feedback from experts, and improve collaboration in a more efficient way by building a collection of know-how. Augmented reality can reduce errors and the need for experts on-site. This saves time and money in the long-run. Read more here how you can use the technology of augmented reality to implement remote assistance in your business.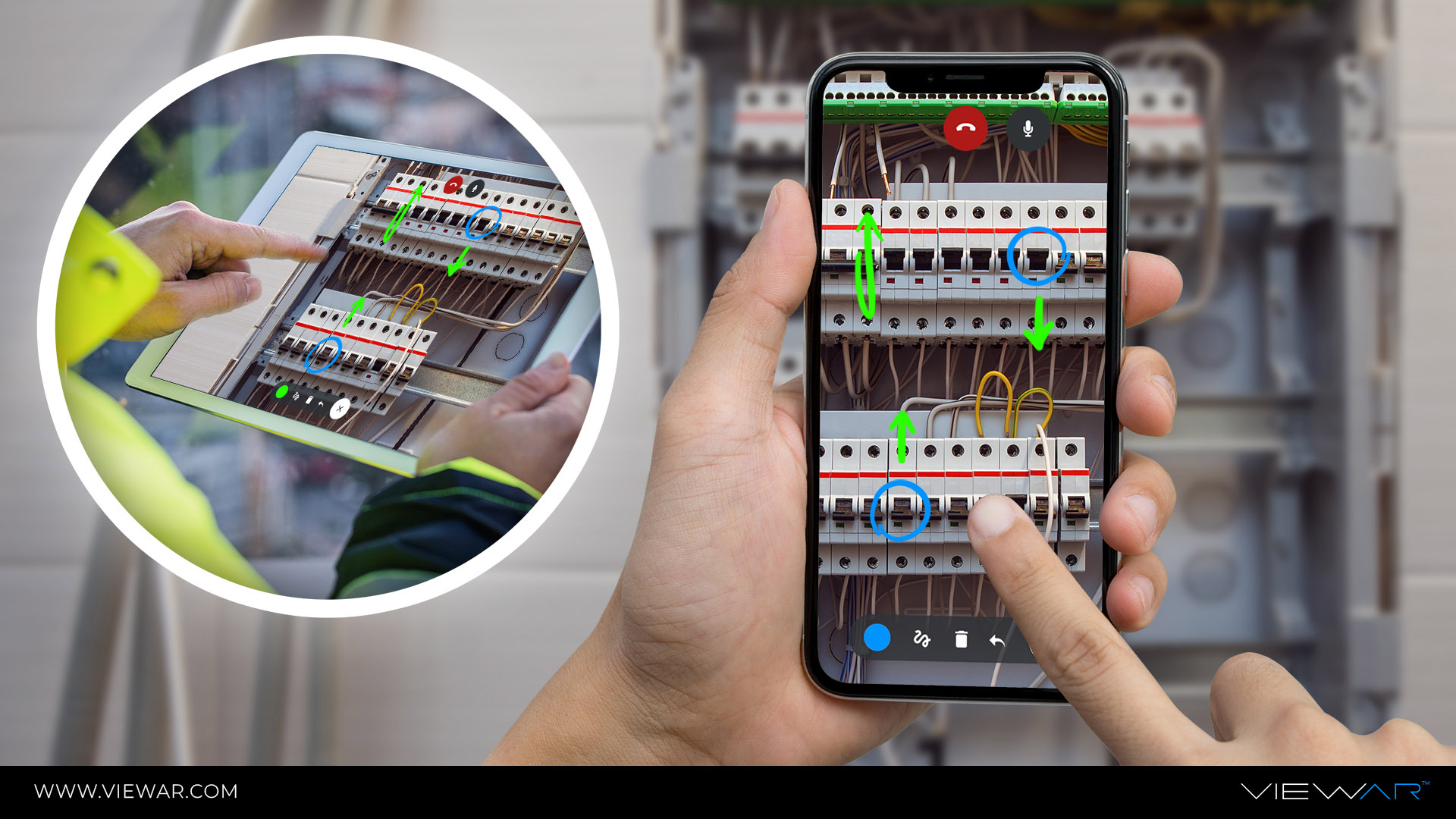 Indoor Navigation:
Augmented reality can track movement or find the location of certain objects. It will help to find the desired machine, pipe, or other object in a complex indoor environment, navigate through the facility, or give accurate information to workers depending on their location. With augmented reality, you can not only make it easier for employees to find their way through the building, the environment can interact with the employees, give them immediate alerts, helpful tips, or other necessary information immediately. If indoor navigation seems like the right solution for your company, click here.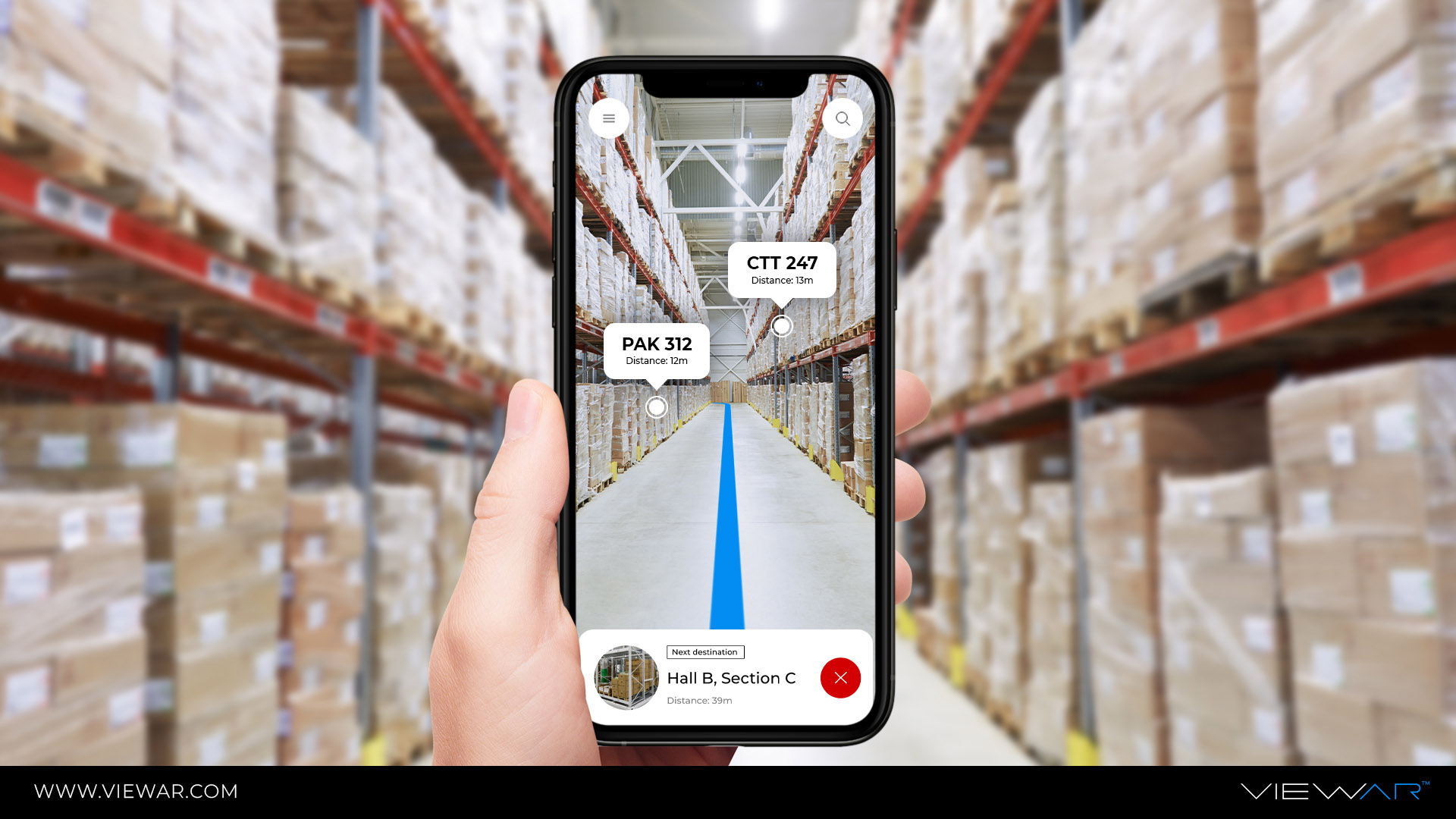 The Technology of AR in Knowledge Transfer
Augmented reality uses a digital twin or 3D scans of the environment. They can easily be created with state-of-the-art smartphones. After that, the relevant information can be stored in points of interest (POI) as text, video, or images. That means, whenever someone moves to a designated object in the real world, the app automatically recognizes where the user is and can then display the information accordingly, bridging the digital and physical world.
The VIEWAR System currently employs a number of technical features, like indoor navigation, product visualization, remote assistance, IoT data visualization, digital workflows, positional OCR, object tracking, and marker tracking. If you want to find out more about the VIEWAR System and how you could apply it to your business, contact us through the form below. We are most welcome to answer any questions that you may have.
Fundamental problems in augmented reality have already been solved. You do not need to create your own software but can easily use one of the many available solutions that offer modular open source code. Or use one of the available software development kits (SDKs) to create your own custom application. With the VIEWAR SDK you can combine logics, functionalities, app flows, user interfaces, and APIs to develop a modern application with ease. If this seems like a suitable option for your business, write us through the form below.
What do you want to create today?