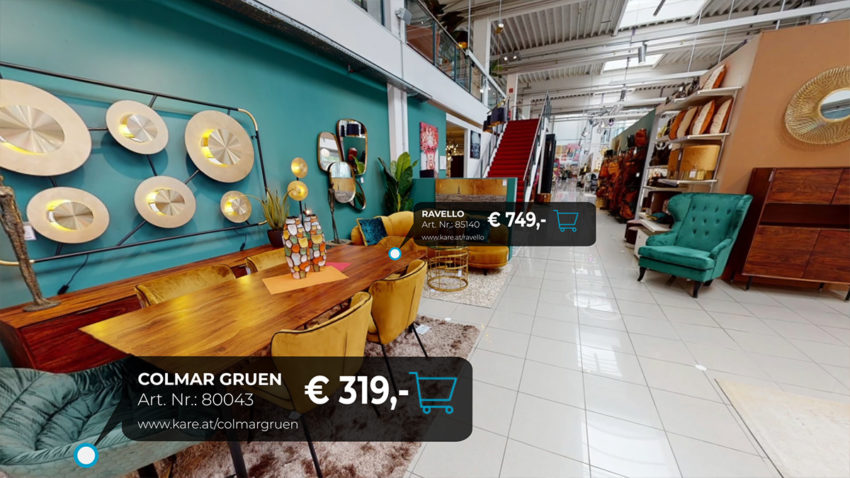 23.07.2021
How to bring your store online in less than a day
A Matterport Scanner, a tripod, and a smartphone, is all you need to create an online version of your physical store and have all the benefits that come with it. All that in less than a day. Find out how you can create a virtual tour of your store and bring your shop online to offer an augmented customer experience to your clients.
Step 1: Scan your location
To scan your store, mount the 3D scanner on a tripod and scan the location. In our use case, we used a Matterport scanner. You can also use a 3D scanner from Leica or NavVis. Position the scanner and trigger a scan with your smartphone. Once it's done scanning, you just place it to the next scanning position until your whole store is done. A preview of the scan is shown in the app to display what areas you covered. With this approach, you can scan about 1000 square meters or 10000 square feet per hour.
Step 2: Create and process a digital Twin
After scanning your location a digital twin with a 3d model and a virtual walkthrough is created. You can now virtually walk through the location and experience the store you just scanned a few hours before.
Step 3: Augmented reality tagging
To mark the products in the walkthrough and link them to your online shop, tags, also called Points-of-Interest, need to be placed. Every item you want to sell can be tagged.Using visual recognition, a smartphone is able to determine its position based on the data from the scan. You can then add points of interest with your smartphone with ViewAR's "Augmented Reality Tagging".
AR Tagging uses optical character recognition also known as OCR, looking for text, barcodes or QR codes. AR Tagging will automatically find the desired characters from the label using defined filters, create a point of interest and save it's precise position to your scan.
But that's not all. You can also provide a product data API that retrieves product data from your shop system to add product name, descriptions, images, price and webshop links. This will save you tons of time when you want to bring your shop online and have to add information to the POI's, especially if you have hundreds of products.
Benefits of a 24/7 virtual store visiting feeling
Once you have everything scanned and AR tagged, you can present your virtual store online. Now, your customers can visit your store, 24 hours a day, 7 days a week and experience the products as if they were there.
virtually visit the shop
browse for products
get information about products
order online
receive and enjoy your product!
Augmented reality indoor navigation
ViewAR can also help you provide a better customer experience for your visitors on site. Help your customers find the right product or present special offerings directly on their smartphone. If your customers want to see a product, they can simply be guided there with the "Augmented Reality Indoor Navigation" which can either be by a 3D character or simple navigation paths.
INDOAR – bridging the gap between digital and physical
In less than 24 hours, INDOAR for retail can connect your offline store with your online shop. INDOAR for retail provides indoor navigation for smart retail environments. With this, augmented reality can provide additional location based product information, promotion offers, as well as upselling and cross selling opportunities. It also offers tools for retailers to easily create a virtual shopping experience connected to an online-shop. Our solution combines all online & offline capabilities in one Ecosystem and is based on a digital twin. Don't miss the next step of digitization – we will help you there.
Read more about our partnership with Matterport here >
Read more about augmented reality in the retail industry:
Exploring the future of retail in the post-Covid world
KARE integrates over 1500 USDZ models!
Video: AR indoor navigation for retail