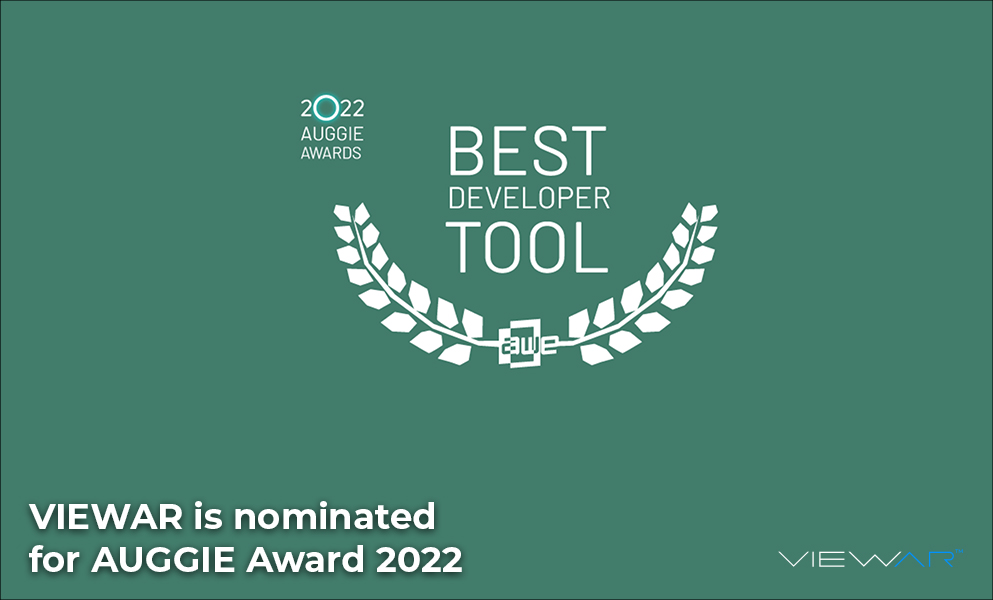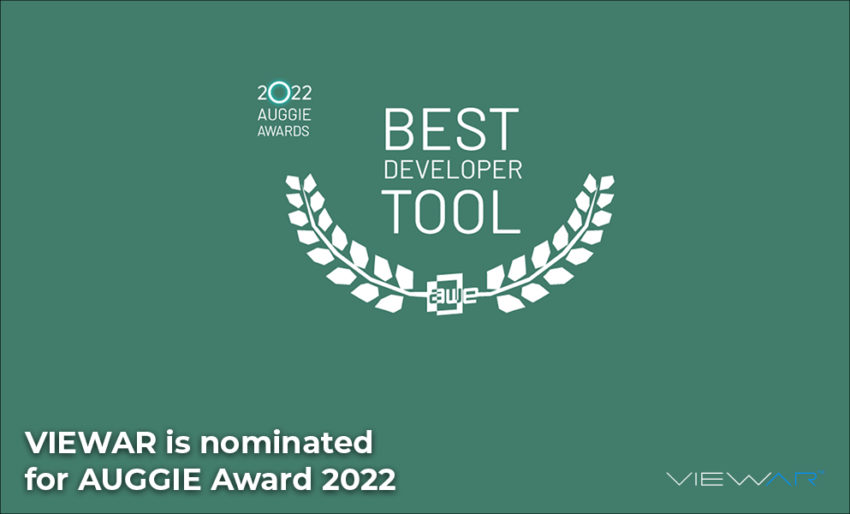 03.05.2022
VIEWARs "INDOAR" receives AUGGIE Award nomination
Our AR template, INDOAR– indoor navigation with augmented reality, is nominated for one of the prestigious AUGGIE Awards, category "Best Developer Tool". Vote for us! In this category, the best Tracking & Mapping SDKs, navigation, recognition, workflow and optimization tools are competing against each other. The product that enables developers to create AR & VR experiences in the best way, wins.
To win this award, we need your help! Voting is open until May 5th! Our clients, partners, friends & family and the whole AR community can help us win this award. Just visit auggies.awexr.com then quickly register, search for "INDOAR" and click the 'Vote' button! Above all, each vote, like, and share means a lot to us. In short, we'd love and appreciate the support from all of you.
INDOAR – create your own AR indoor navigation
With INDOAR you can provide digital indoor navigation and display additional information on a smartphone. For example, optimize routes and always find the quickest way around your location. Secondly, you can offer digital content about a product or object at the exact location. Furthermore, predefined routes allow for a more strategic user navigation and help saving costs. The App based system has a platform- independent modular structure. Therefore, it is capable of integrating the majority of hard- and software components available on the market. INDOAR is:
An AR solution with spatial awareness
Based on the VIEWAR ecosystem
With an intuitive admin interface
And a customizable app frontend
For AR navigation, instructions, live data…
About the Auggie Awards
The annual Auggie Awards are one of the most recognized industry awards for augmented reality in the world since 2010. Now, the Auggies continue to showcase the best of the best in augmented, virtual and mixed reality. As of now, until May 5th, the public votes for the nominees they wish to see as finalists in each category. Then, the voting will bring out five finalists in each Auggie Award categories. Then, a judging round will evaluate all projects from May 12th to May 26th. Winners will be presented with the prestigious Auggie Award at the Auggie Awards Ceremony. This ceremony will take place on June 2nd at the AWE USA 2022 event in Santa Clara, California.
About VIEWAR
VIEWAR provides a complete infrastructure to create, manage, test and publish augmented reality applications. The VIEWAR System is for developers as well as inexperienced creators. They can use AR technologies to create immersive AR experiences across all industries. The All-in-One system offers solutions for indoor navigation and workflows; Industry 4.0 & IoT; remote assistance and product visualization.